The Claysville United Brethren Church as it appears today.
This congregation was formed in 1850 as the United Brethren in Christ. According to "The History of the Church of the United Brethren in Christ" Virginia Conf. by A. P. Funkhouser, 1921, the church building was erected about 1850-55.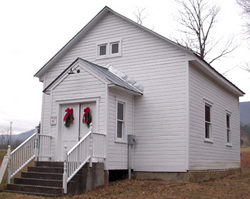 The building was built under the pastorate of William Fout and first mentioned in the Virginia Conference of the United Brethren Church Journal in 1857.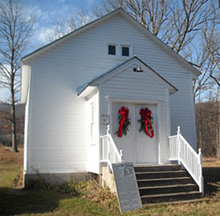 The church served the community until 1968 when the Evangelical United Brethren and the Methodist Churches combined to form the United Methodist Church. At that time, there were only 13 members and the congregation disbanded.
The Mineral County Historical Society now owns the property which is located at the intersection of U.S. Route 50 West and Route 93 (Laural Dale Road) in the small community of Claysville, Mineral County, WV. The church is available for weddings, reunions, etc. The church seats 70-75 people. To schedule an event contact Darlene Frederick 304-813-8591 or Frank Roleff 304-788-5129.

Millar McCarty Memorial
The year was 1755 when Wendle Millar and Patrick McCarty, early settlers of the frontier of Virginia, built a two family log home near Fort Cocke, a blockhouse along Patterson's Creek near present day Headsville, WV.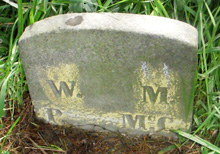 In 1761 Wendle Millar and Patrick McCarty were stacking flax in a field beside Patterson's Creek when they were attacked by a group of Indians led by Killbuck.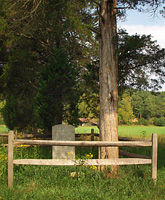 Millar was killed at the site while McCarty was captured as he ran towards Fort Cocke and carried off to Ohio by the Indians. He was later burned at the stake.
Patrick McCarty's son, Edward, married Wendle Millar's daughter, Elizabeth.
In 1789 Edward McCarty was granted 401 acres of land on Limestone Run and in 1798 purchased 200 acres on New Creek. In 1811 the Paddytown Post Office was established and Isaac McCarty, the son of Edward and Elizabeth Millar McCarty was named postmaster.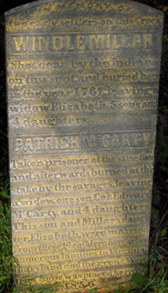 Paddy Town later became known as Wind Lea, New Creek, and now Keyser, WV.
The plaque donating this property to the society reads: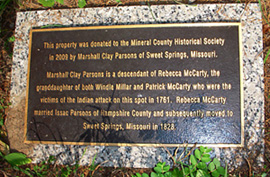 "This property was donated to the Mineral County Historical Society in 2009 by Marshall Clay Parsons of Sweet Springs, Missouri. Marshall Clay Parsons is a descendant of Rebecca McCarty, the granddaughter of both Windle Millar and Patrick McCarty who were the victims of the Indian attack on this spot in 1761. Rebecca McCarty married Isaac Parsons of Hampshire County and subsequently moved to Sweet Springs, Missouri in 1828."
The memorial is located off of Patterson's Creek Road between Burlington and Headsville.